Holiday flat 11 for 2 to 3 persons
The flat for 2-3 persons has a sunny south-facing terrace, internet access (WLAN), satellite TV (flatscreen), couch set, complete kitchen with 4-plate cooker, oven, coffee maker and complete crockery.
All linen such as bed linen, table linen and hand and bath towels are available. Children can let off steam in our playground in the garden.
Flat layout
Living and dining room
separate dining-kitchen
Bathroom with shower
spacious south-facing balcony
separate bedroom with double bed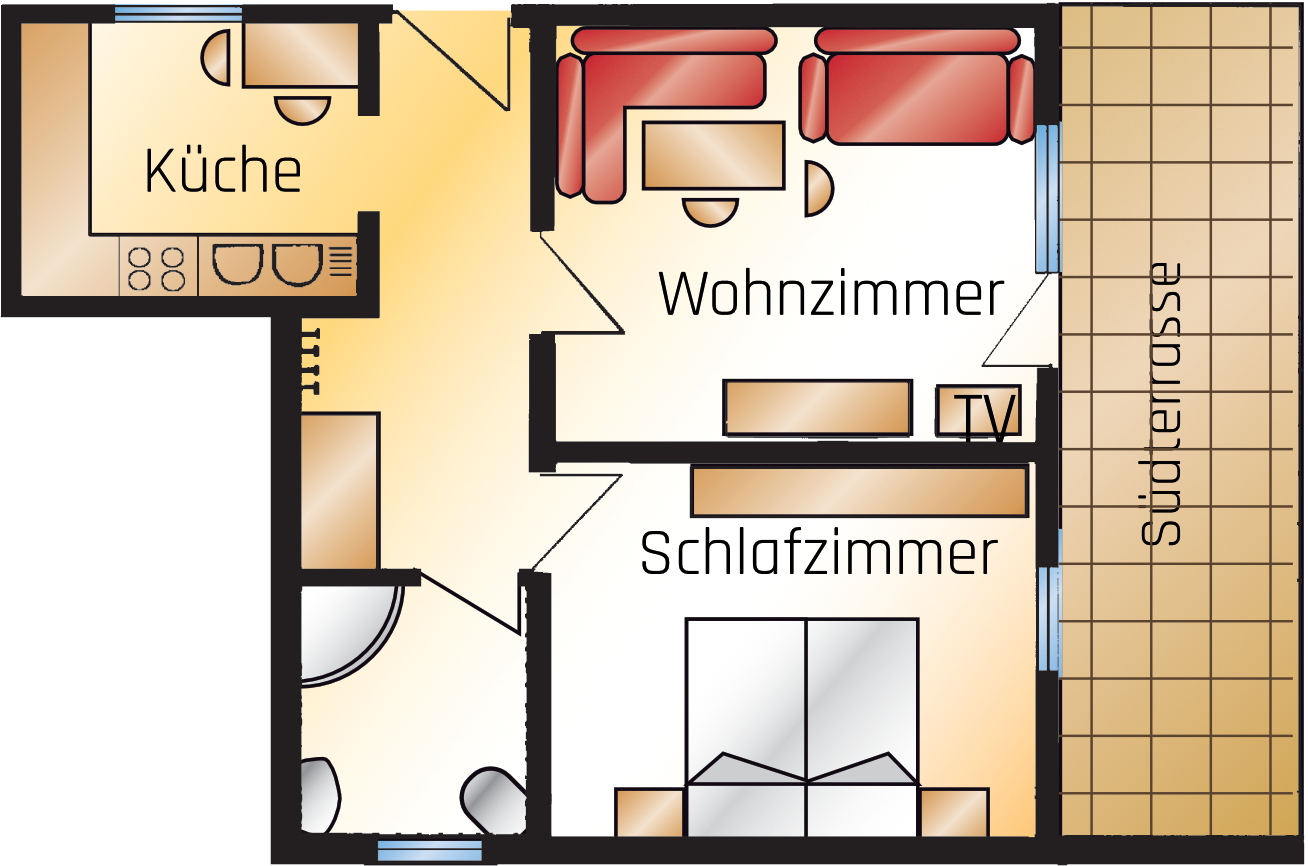 Wohnung allgemein
Apartment on the ground floor
Dogs allowed
Non-smoking apartment
Terrace
Internet connection / WLAN
Mountain view
Garden furniture / Balcony furniture
Wohnen und Schlafen
CD player
Television/flat screen TV
Radio / stereo system
Double bed
Bed linen available
Sofa bed in living room
Living room/bedroom separated
KĂĽche
Separate kitchen
Electric cooker
Oven
Refrigerator
Coffee machine
Fume extractor
Freezer
Table and kitchen linen
Water boiler
Toaster
Crockery towels
Badezimmer
Towels available
Hair dryer
Shower
Haus
Washing machine in the house
Garden/lawn
Garden chairs
Bicycle parking space
Storage room
Grill
Free parking
Parking space at the object
Carport
Table and kitchen linen
Bread service
Sauna
Quiet location
VerfĂĽgbarkeit prĂĽfen
Preise
Errors and omissions excepted. Prices per flat per day plus visitor's tax per person/day € 2.80 (children up to 14 years free; from June 2023 visitor's tax € 3.50). Final cleaning 55,- €.
Dogs allowed; 15 Euro per day (without food)
Minimum stay 4 days and in high season (21 Dec. to 31 March and 1 July to 31 August ) 7 days
Your travel dates